Open this up with your webtv, and do it on your pc. Don't have to be online with pc for this, hope your pc and webtv are in same room LOL.

| | |
| --- | --- |
| | Start | Programs | Windows Explorer (should be towards bottom of start menu, you will have different icons and programs naturally |
---

You will see Desktop, My Computer, A: (floppy drive) and then C: (your main drive). All the folders that fall under C:'s main line belong in the C: drive. Don't mess with the ones already there.

If there is a little box with a plus sign [+] in it, that means that there are sub-folders inside the folder and to open up the subfolders, click on the little [+], and some more folders will open up underneath it (there could be even more subfolders inside it). To close up the subfolders, click on the little [-] box with the minus sign in it, and it will then have a plus sign again. Don't mess too much with that yet, but put in in case you wanted to have an images folder and put in subfolders called 1. angels 2. sunsets 3. cartoons, ect and they would all be within the primary image folder.

Note: all your programs other than windows will probably be in Program Files (but not always, just mostly).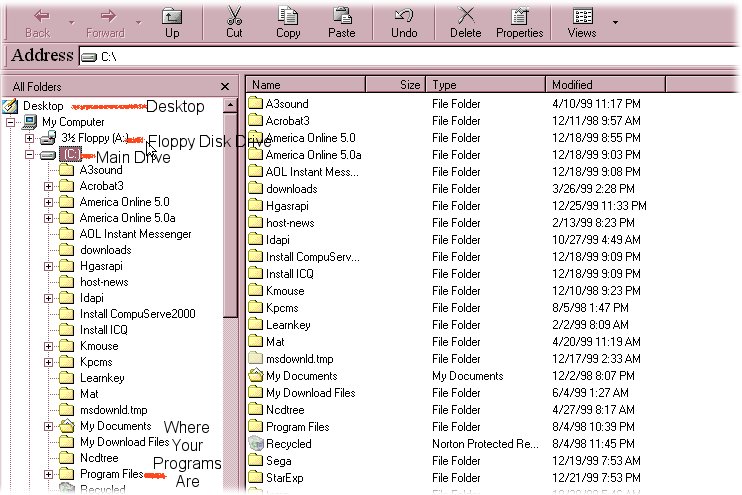 ---
| | |
| --- | --- |
| | We are going to make a new folder so you can put stuff in there, first one will be for images that you download.In the upper left part of Windows Explorer, see the FILE button, click on it, then submenu NEW, dont have to click on it this time, just wait till a new submenu opens to the right side and slide your cursor over to FOLDER and now click on it. |
---


A new highlighted file will appear on the bottom of the right side of the screen. Use your keyboard's back button to delete this out, and put in a name for the folder, I put Pat's Pics into mine for this demonstration. Now click on your enter key. Hey Lady, you just made a folder in your Windows Explorer! Next page will be for showing you how to either put stuff in there from downloads, or bring stuff up from it for when you open up images in your graphics program or to upload. Part 2

| | |
| --- | --- |
| | This is just how it looks temporarily, since you just made a new folder. On the next page will be how the right side of the window shows the contents of what's inside of the folder in the left window. Part 2 |